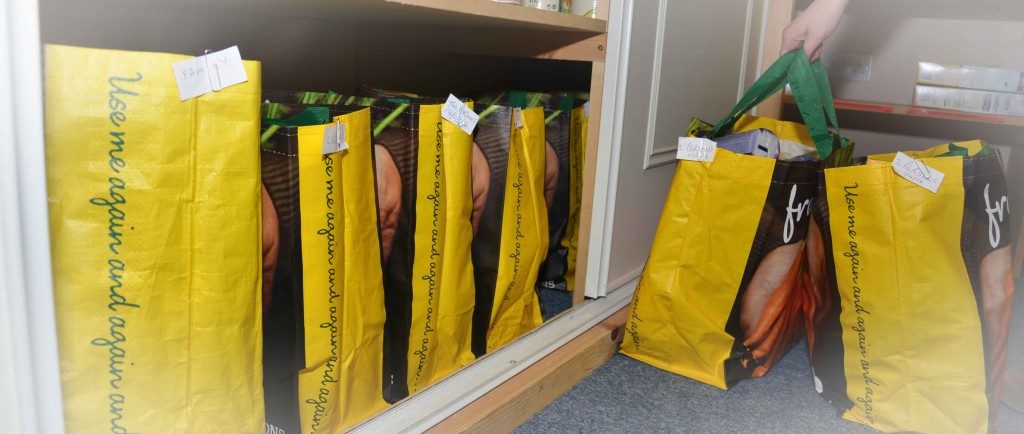 The larder's purpose is to provide a bag of food for people facing financial difficulties
This is an emergency service to provide short term help in times of crisis.
Clients may be allowed up to 6 referrals a year.
We expect our users to to be working with supporting agencies to resolve their difficulties
HOW TO APPLY
Those in need of our help are referred to us by our Accredited Agencies:Requests must come through them; We do not issue referrals
We are happy to advise who we think will be best able to help you
SOME AGENCIES WE WORK WITH
SSDC Social services;Citizens Advice Bureau.(https://www.citizensadvicesouthsomerset.org.uk/)
NHS Village Agents;Community Agents (https://somersetagents.org/)
Churches providing the Lord's Larder stocks,
other specialized support organizations.
They will asses your situation and decide with you if they will issue a
REFERRAL FORM which they will email to us to prepare a food parcel
for collection the NEXT WORKING DAY
COLLECT YOUR FOOD BAG FROM THE FOREFRONT CENTRE, 42 Fore Street,Chard
Collecting hours: Monday, Tuesday, Thursday, Friday 1O.30am to 12.30pm.
CLOSED on Wednesday, at weekends and Bank Holidays
Social distancing will be observed, please bring proof of identity
You will be served by our volunteers in a friendly and non-judgmental way – we know there are many reasons why people need a little extra help at times.
We prepare bags to meet the needs of single people,couples and families
———————————————————————–
REFERRAL FORM.
Only accredited agencies can apply for copies of the form through our admin address.
Or phone 01460 66080 to speak to the admin team.
Referral forms must be returned by email to us by 5.00 PM. for action the next day.
The form is not issued directly to our clients.