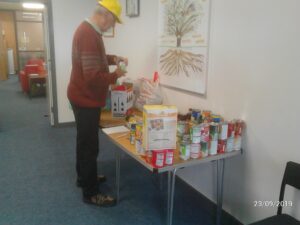 This summer holiday the Government have agreed to issue vouchers to enable
families who were having free school meals to buy food at the supermarket.
Chard Lord's Larder appreciate that this is only limited support so we are offering some additional food.
This will not be a packed lunch but will be tinned store cupboard staples
& also we hope to add bread and extra items that have been donated to us.
TO APPLY.
simply Contact us on Wednesday or Thursday Morning so we can prepare the bags we need for collection on Friday morning
TO COLLECT.
On Friday morning from CHARD BAPTIST CHURCH in Holyrood Street.Open from 10.15am to 12.15am.
You will be asked to show us your voucher, on Paper or on your Phone.
Please come with something to carry food home, it will be one,maybe more large bags and are heavy!
If you need to cancel,please do let us know on Friday Morning.
IF YOU ARE NOT GETTING THE VOUCHERS but you are finding your money is not meeting your bills?
We suggest you contact the CAB,Community Agent or if you are in a Housing Association, contact their support department. They can look into your situation with you,can refer you to us and help ensure you are getting all the help you are entitled to.
There are so many organizations out there to help but guidance is needed to find them.